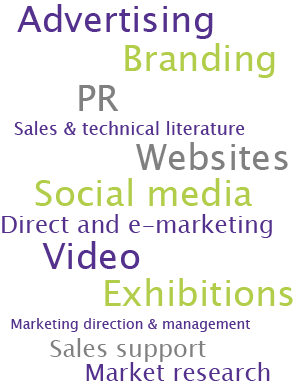 When people talk about full service, or integrated, agencies they generally mean an agency that will provide all types of marketing services to deliver a co-ordinated, cohesive marketing communications strategy.
Publicity Services has these capabilities, but with years of experience in construction industry marketing, we are also able to provide many more valuable resources to enhance the effectiveness of your marketing campaigns and relieve you of the strain of day-to-day management.
So, in addition to providing the full range of promotional tools, from advertising to websites, public relations to social media, we also offer the capability to act as an additional arm to your marketing team, or if you do not have a dedicated marketing department within your company, we can provide a complete marketing service for you; in effect becoming your marketing director/manager.
Download our construction industry marketing literature here.
PSadmin
2019-08-14T14:32:28+01:00
Creative advertising to architects National and international trade campaign advertising to architects, specifiers, distributors and installers. Series of display advertisements created to promote range of benefits delivered by product to various areas of application - fire safety, hotel interiors, health and education. Media schedule prepared and copy supplied to suit key editorial features covering these topics in [...]
PSadmin
2018-11-26T15:16:52+00:00
Product brochure design and print Major new product brochure for leading British designer and manufacturer of concealed door closers. The brief: "We need a new door closer brochure." Employing the full range of skills and construction industry knowledge available at Publicity Services, we created this comprehensive 48-page brochure from scratch. In-depth knowledge of the products [...]
PSadmin
2017-03-01T16:34:05+00:00
3D product model shows hidden benefits Advanced computer generated imagery (CGI) techniques combine with visualisation skills and artistic interpretation to create stunning, eye-catching visual representations of all types of products. Working from CAD files or the simplest of sketches, our highly skilled CGI technicians create amazing 3D computer models of all types of products. The [...]
Latest related blog posts
PS
Ensuring social media success relies on a number of factors. Giving the responsibility to one person is not necessarily the best route. We recently made [...]
PSadmin
All employees  play a crucial part in managing your brand, because they can affect what customers and colleagues think of your business. Therefore, it is [...]
Publicity Services has transformed our PR activity in all areas. Their competence and professionalism inspire confidence and mean that they require minimal management or direction…
Publicity Services' ability to assimilate the technical aspects of our products and translate product features into benefits relevant to our target audiences brings many benefits to our marketing activity…
Publicity Services' transformed the direction and enthusiasm of our marketing efforts, mixing well with directors, marketing, sales and technical staff to achieve results…
Thanks to their professional input, market knowledge and creative thinking, we have been able to maintain our position at the top of the market…